Featured
Tips On How To Take Care And Maintain Your Linen Sarees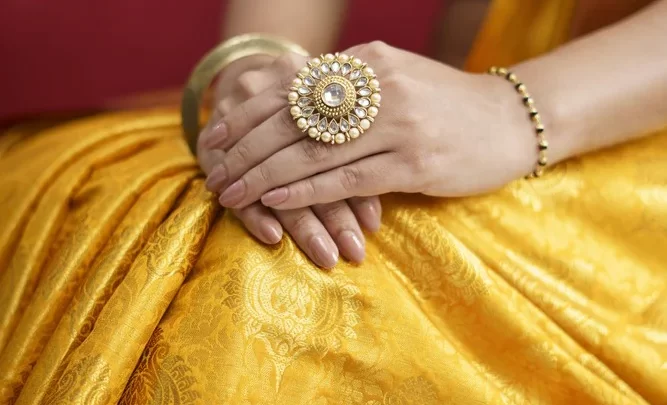 Linen sarees are the ultimate summer favourites. A large number of women choose to wear linen as opposed to any other fabric, especially during the summers. Linen is soft and lightweight, which is why it is equivalent to cotton. But since you can't be wearing cotton sarees during weddings, it is best to stick to linen numbers. 
There are several benefits of wearing linen during the summer, the topmost reason being how breathable the fabric is. Linen is lightweight and once you wear a linen saree, you won't feel as comfortable in any other fabric. Made from flax fibre, linen feels soft on the skin, which is why one can even wear simple linen sarees on a daily basis during summer. 
But since you won't be wearing your favourite heavy linen saree throughout the season which will mostly be lying in your wardrobe until you have another festive event to attend, it will need proper care. Instead of washing it at home, folding it up and storing it in your wardrobe, linen requires utmost care and maintenance. 
These tips to care for linen sarees will ensure that it lasts for a longer time. 
Tips to wash a linen saree
To wash your linen saree, you will need to soak it in cold water with rock salt for 5-10 minutes. This will prevent excessive colour bleeding and will ensure your saree remains brand new.

A little colour bleeding during the initial 2-3 washes is normal and usually happens because of the extra dye which is added while making the saree.

Because linen is a soft fabric, avoid using harsh detergents and stick to milder ones. Adding a little shampoo to the water while washing the saree will also work.

Wash the saree gently and don't wring it too tightly.

Dry the saree in shade, not under the direct sun because the colour will fade away.
How to iron a linen saree
To iron your linen saree, use low-temperature settings. You can give the same instruction to your laundry help if you don't plan on ironing it at home.

For best results, flat-dry the saree in shade. This will ensure the longevity of the saree.
How to store a linen saree
Linen sarees

are known to absorb at least 20 percent of its own weight in moisture. This is why you need to store the saree in a dry and dark place, away from dampness and moisture.
Don't fold the saree repeatedly because it will lead to creases and cause permanent damage.

Instead of pushing the saree under a heavy pile of other sarees, you can hang it on a hanger.

You can even store the saree in a cotton bag separately or wrap it in a muslin cloth. 
The best part about wearing linen is that it gets softer with every wash. Also, it's best not to starch the saree because it will affect the saree's natural softness and ruin it. Follow these maintenance tips to keep your linen sarees as good as new.