Fashion
Moissanite Halo Engagement Rings – A Divine Amalgamation Of Souls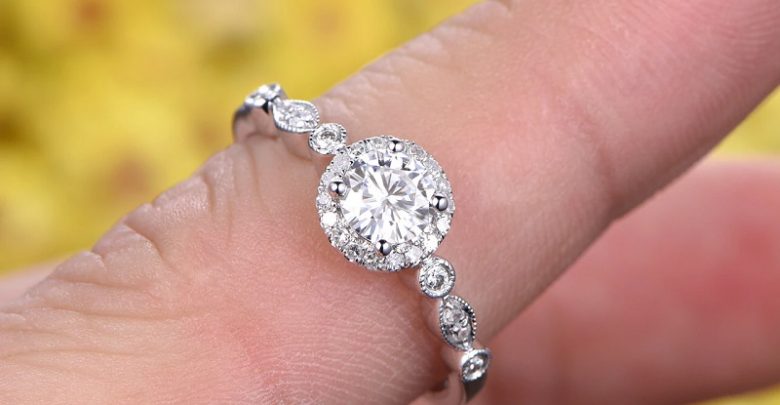 Moissanite is a gemstone that is replacing a diamond by all means. And why not?  If you keep them together, they look identical. Moissanite Halo Engagement Rings are truly an engaging lot, that are available at the most exquisite jewelry counters today. Moreover, being a rare mineral, most companies are emulating it in the labs. Now, many people will have queries, regarding the durability of Moissanite. If you measure on the Mohs scale, it comes at 9.25. It is durable, brilliant, and scores well colorwise. It is one of the hardest stones found on earth. Moreover, you can also wear them every day, without fear.
Alexander Sparks is doing brisk business today, with engagement rings and wedding rings made from this precious metal. Moreover, some feel that Moissanite has a disco-ball like effect. The sheer brilliance increases with the size and cuts of the gemstone. They are generally colorless. However, some of the stones show a yellowish or greyish hue. They vary in price based upon their size. If you don't want to harm the earth and are concerned about the environment. You should definitely get one today.
Grading Of Moissanites
You can find them in several categories, like premium and super premium categories. Some people have queries and doubts about the companion settings for the gemstone. Indeed, they do pair extremely well with most diamonds and metals. Therefore, you can choose any one of them.
Alexander Sparks makes the most endearing Moissanite Halo Engagement Rings today. You must have heard about the halo settings, right? A halo setting features a central stone that is surrounded by small diamonds. Moreover, the smaller diamonds add a classic style to the ring. There are various kinds of rings set with this wonderful stone. There is the Addison ring, Abigail ring, Abi ring, Alexia ring, Athena ring, and so on.
Speaking about the Addison ring, it is priced at $1,395. The ring sports a round Moissanite at the center with a stunning arrangement of diamonds on the sides. Moreover, you have the choice of platinum, white gold, yellow gold, and rose gold. The honeycomb setting makes it even more precious to the onlooker. You can customize this ring; in the way you want. The style is classic, with a gemstone grade of Forever One. You can also customize the design; the way you want to.
Another addition to this collection is the Abigail Moissanite ring, that comes for $1,295. It comes with a white Moissanite prong set with a halo of diamonds. This is one classic ring that you will love to flaunt. Moreover, you can choose between white gold, yellow gold, and rose gold. The look and feel of the gemstone changes with the type of metal you use for the setting. This is a round halo gemstone setting with a gallery of smaller diamonds surrounding it.
Another top choice remains the Adeline Moissanite ring that has a vintage-inspired look. You will find one cushion-cut stone set amidst sparkling diamonds in a beautiful filigree design. There are several options to choose from, like white gold, platinum, white gold, and rose gold.
Moissanite Rings NYC – Making You Feel Good
Today, you have numerous options with this wonderful stone. The styles range from solitaire, infinity, and classic to floral. There are various options in gemstone shapes as well, like round, radiant, emerald cut and oval as well. You will be spoilt by the variations in design and works. Moreover, you can also give your own inputs and create a masterpiece.
Take the example of the beautiful Athena Moissanite ring. It is surely one of the best so far. Moreover, it is a rare beauty amongst the various rings in this gemstone. Set with yellow Moissanite and diamonds, this is one beautiful piece. It sports a 2-carat beautiful yellow Moissanite at the center and custom yellow diamonds in a filigree design. Colorless diamonds are set around the Moissanite. The design has a very unique feel to it and will you can also select from a wide range of metals.'
This is one of the best places in NYC to look for a beautiful engagement ring. Moreover, the halo setting is getting famous day by day. It is especially popular as an engagement ring or a wedding ring. Now, you might ask, Why Them? There are plenty of other jewelers in NYC.
The answer is very simple. They make the best Moissanite Rings NYC. Quality is the topmost motto for the company. And, you get them at competitive prices. Moreover, they are delivering the customized and the pre-ordered rings through FedEx. They are known to be the best shippers with fast and quality service. Furthermore, these come with a 30-day money- back policy. No other jeweler has the guts to make such promises. Moreover, you get flexible payment options. They are also offering a 2-year buy-back policy. If you are tired of wearing the same thing again and again, exchange it. You will get 70 % of the original price back.
Moreover, they will provide you a detailed guide. That enlists all the dos and don'ts of the jewelry that you buy from them. If you visit the education section onsite, you will be able to find all the necessary information. Therefore, without wasting anymore time, go and buy the best jewelry piece of your lifetime and flaunt it like never before. They also teach you how to care for your newly purchased gemstone and management as well. You will truly love the look and the feel. When friends and family see the shining gem on your finger, they will not be able to stop you. You are surely s=getting into the best deal of your life. This beautiful piece of jewel will enhance the bond between you and your spouse and make memories. Visit the site today and scourge for the best stone and metal setting and buy one. It will be one of the best purchases of your life. So, enjoy!