Home
5 Surprising Things about Quartz Countertops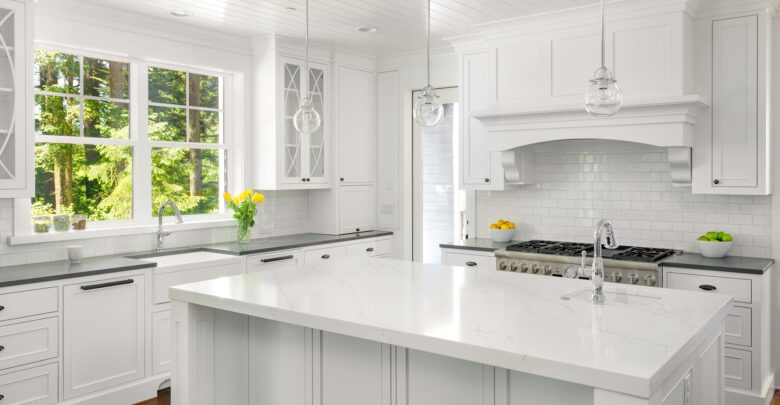 Various materials could be used in the making of bathroom or kitchen countertops. But Quartz is undoubtedly considered to be one of the most popular and common materials in this regard. As compared to others, quartz countertops are basically known to be made from the engineered stone. 
In this method, some specific kinds of natural stones are ground up and then fused together utilizing plastic resins. There are some of the most astonishing facts about quartz countertops that you must know for your convenience. 5 of such surprising things are described below. 
There is more to it than just natural quartz
Most of the people know that quartz countertops are known to be made from one particular kind of stone, but in reality, various types of rocks are basically used in the making of quartz countertops. 
In most of the cases, these slabs are to comprise natural stones, granite, and marble. Moreover, it also consists of some kind of recycled materials such as glass, ceramic, and mirror. Hence, there is more to the quartz countertops than just quartz. 
A famous quartz brand is associated with Cheese
Cambria is considered to be a popular and recognized quartz countertops manufacturer and brand. There are very few people who know that this brand and manufacturer is associated with the dairy industry. 
This brand actually started its journey in the segment of dairy. Later they joined the quartz industry. Even after coming to the quarts business, they did not leave their first business. This is the reason they still produce millions of pounds of the cheese and other dairy products per year. 
Quarts is also a great flooring material
People know quartz to be one of the best materials to be used in countertops making, but very few people understand that this material is also used on the flooring surface. Whether it is a shopping mall or airport, quartz is undoubtedly known to be the first choice and preference to lay on the floor surface. 
Therefore, this material has been used in the making of countless flooring around the world. As a flooring material, quarts happen to have ultimate longevity and permeability. If you are to choose quarts as the flooring material, then it is going to be a great choice on your end. On the one hand, it makes the floor solid and durable, and on the other hand, it enhances its aesthetic aspect and beauty.  
If you are concerned about the ecosystem and environment, then it would be an excellent option for you to go for quartz. It is known to be such a material that it is considered to be entirely eco-friendly. Using this material, you will be able to reduce the effective carbon footprint out there. 
The engineered stone countertops are to be made with different by-products of the quarrying processes, which indicates no natural materials are to be harvested for producing the quartz countertops. Hence, quarts are really supposed to be known to be the environmental material that you could use in the making of kitchen and bathroom countertops as per your convenience. 
Therefore, using quartz in the production of countertops is not considered to be harmful to the environment in any way. As compared to this, all the other materials will undoubtedly harm the environment in some way or another. This is the reason quarts are always regarded as the first preference for those who worry about the environment. 
You just need to do some extensive research on the impacts of quarts on the ground. This way, you would be ensured of the positive impacts of this material. Quart may be a little expensive, but the price could be considered okay and decent compared to its features and quality. 
Granite and quartz have their separate market
Quarts were marketed in order to compete with the granite. These two materials happen to have similar features and qualities. But there are two distinct segments where these two materials have emerged. Homeowners and users are to find unique value in these two materials. Both of these two materials are to have a great visual appeal which is why they are primarily used in the making of countertops. 
Each of these materials has its own merits and demerits for which different people prefer to go for a different option. Some people tend to go for granite while some other people's choice is quarts. 
It would be great for you to do proper research first on the various aspects of these materials. Once you have gathered enough information, you can decide to go for it based on your personal preference and choice. Each of these two materials has to have its fair share of market and customers out there.