Business
The Drawbacks & Benefits of Purchasing from Authorised Resellers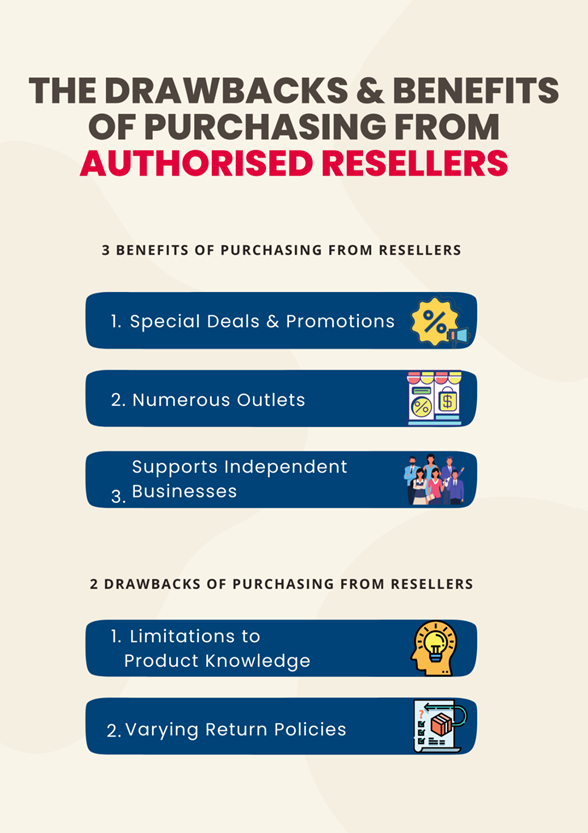 Going to an Apple shop and experiencing the company's first-rate in-store experience is part of the delight of purchasing a new iPhone, iPad or MacBook Pro. The company's personnel is well-versed in its goods and can propose the best hardware and software for your requirements. However, not everyone has access to their store.
Here are the benefits and drawbacks of buying from an authorised reseller.
3 Benefits of Purchasing from Resellers
You can receive three benefits from purchasing iPhone, MacBook or iPad from authorised resellers in Singapore. They are:
#1 Special Deals & Promotions
You will frequently discover special deals and discounts when purchasing your iPhone, iPad or MacBook Pro from third-party vendors. You can also avoid paying sales taxes. Some authorised resellers also offer freebies, such as headphones or a new phone cover. Some businesses go over and above to provide excellent service and earn customer loyalty.
#2 Numerous Outlets
Apple has a retail footprint that includes 510 locations. However, stores are only found in big cities outside the United States and Canada and can be challenging to visit. Third-party resellers bring Apple items like their smart watch line closer to home.
#3 Supports Independent Businesses
It is imperative to encourage independent technological enterprises. You may even discover that you may improve your relationship with your local computer expert. They may provide you with better assistance when you need it and may even personally deliver your new Mac or MacBook Pro to you.
2 Drawbacks of Purchasing from Resellers
There are two primary drawbacks to purchasing your iPhone, MacBook or iPad from authorised resellers in Singapore. They are:
#1 Limitations to Product Knowledge
In-store Apple employees have deep product expertise and have used the devices they offer directly. You may stroll into a shop or contact an advisor online if you have a specific query. Third-party resellers, on the other hand, will have to rely on handbooks or good old Google to provide you with an answer regarding your iPad or smart watch.
#2 Varying Return Policies
Apple has a liberal return policy and some of the best aftercare in the business. The return policy may not be as generous or tolerant if you buy your iPhone, MacBook, or Apple Watch from authorised resellers in Singapore. Speak with a sales representative before handing over your payment to ensure you understand your rights.
Harvey Norman has provided customers in the country with an unrivalled shopping experience for years. The strong brand presence of Harvey Norman on the island encompasses the electrical, computer, furniture, home, and bedding retail sectors. Customers can purchase various Apple products like iPhone, iPad, MacBook Air or Pro at their store. Visit their website to learn more about the store, the items it sells, and the services it offers.