Home
What Are the Different Kinds Of Vinyl Flooring?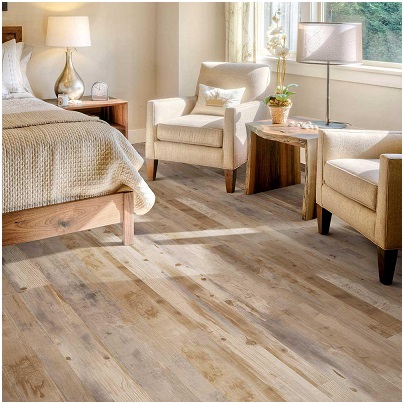 Vinyl floorings are without a doubt great options to avail. Their easy installation procedure, even makes itself a DIY procedure for some who are well acquainted with it. You can also hire professionals to do it for you though. So if you are no pro at it and are just looking for ways to make your rooms look better, then you must first educate yourself about various aspects of the whole affair. Let's start with the various kinds of vinyl floorings that you could choose from.
One of the hardest decisions that you will have to make even before the actual process of installation of the flooring begins is to make a choice. There are so many great options in terms of colours and textures that it is natural for you to get lost. But we have got you covered. Here is a list of the kinds of vinyl flooring that you can choose from.
Click lock vinyl flooring:
This kind of vinyl flooring has a locking mechanism similar to laminate flooring. The only thing different here is that click lock vinyl flooring has thinner constructions. They are typically 2mm to about 8 mm in thickness. They need vinyl specific underlayment for their installation.
Vinyl plank flooring is a comparatively newer advancement under vinyl flooring. They are thin enough and yet not so thin. They have a stable enough built and are usually about 4 mm in thickness. Vinyl floors which are about 4 mm in thickness require vinyl specific underlayment. These often come with attached underlayment. This helps to increase sound absorption and adds cushion to the floor.
Glue down vinyl plank flooring:
These would not require an underlayment and that is their specialty. You can just glue these down on your floor. Not having an underlayment may pose some drawbacks, but all in all, this is not a bad option to go for.
Cheap laminate wood flooring is also a great choice to go for. When you visit the store you would certainly have more options to choose from. We just made you aware of the basic choices and considerations that you must look for to go for the best possible option.