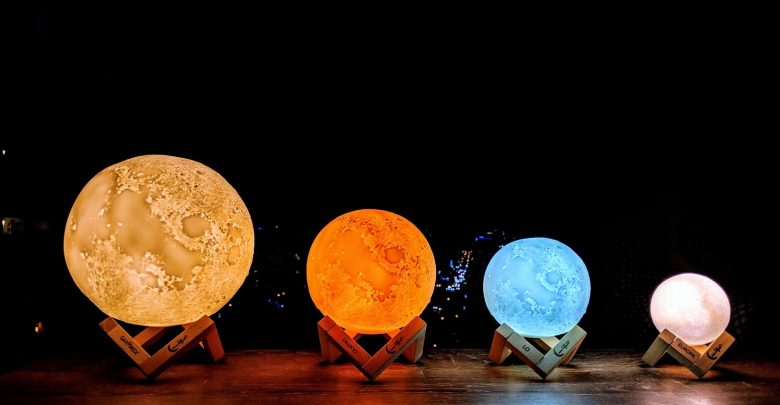 This is an Australian superior lighting product. lunar effects are always on the frontline to provide you the best there is, that is why they present moon lamps for you. This product comes in a variety of sizes. It comes in 8cm, 12cm, 15cm, and 20cm. lunar effects make its moon lamps in these differentiated sizes as well as colors that go along to impress you as the user. The colors include the cool white, warm yellow, and warm white. They use the ancient themes of Galilean moons, which integrated moons of Jupiter as structured in Callisto, Ganymede, Europa, and IO.
If you are a lover of these exotic themes then you will marvel at how great Lunar Effects will bring space effects to your home. You don't need to stand behind a telescope to view the world's natural features such as the moon. Lunar Effects gives you an exclusive chance at an affordable price. 
Features of Moon Lamps from Lunar Effects
These moon lamps are made using polyvinyl Chloride. Since PVC is recyclable, the material is considered as eco-friendly. This can be a serious matter of concern especially now that the globe is grappling with environmental pollution and management of global warming. Other than industrial emissions, pollutions from a non-biodegradable material and poor environmental management also have negative environmental implications that may directly lead to global warming menace. Using organic materials that can be recycled is part of the Paris environmental pact that aims at reducing the environmental pollution.
Furthermore, moon lamps come with strong and long-lasting batteries. The capacity of one lithium cell is 300mAh and is 3.7V. it charges approximately 3 hours and is able to emit light for 3 to 4 hours on a single charge. Also, it comes with a charging USB cable and a port at the bottom of the lamp which can take a 5V direct current or 1 A.
Additionally, for every lamp you purchase, you get an engraved wooden stand and a USB cable. The cable, however, comes without a charging adapter. It can be purchased separately if needed.
Generally, you can settle for this product for the following benefits:
+ free domestic shipping: the company offers free transportation of your product and delivery to your doorstep. It also has a tracking technology that enables you to view and track your commodity by following its movement online. Additionally, you can have your commodity shipped from Australia to your country of residence. This service will, however, cost you in addition to the price of the lamps.
+ The security of the customer is fully assured. Technology has made it easy for individuals to be able to pay without necessarily involving banks. One can actually transfer money electronically via a mobile. If this is not handled well, you can be at risk of falling prey to the fraudsters. With Lunar Effects, you are assured of a secure payment platform that is encrypted with SSL software that gives the best online experience by shopping with confidence.
+ Lunar Effects offers the best customer care experience. Once you contact them, you become part of their family and will dedicate themselves to ensure you receive the best treatment and honest information that will, in turn, inform your demand for the product.
+ Moreover, moon lamps come with a favorable guarantee of 3 months. According to the company policies, you are at liberty of shipping the lamp back to the company if it has malfunctioning issues within the first three months of purchase. However, the costs of shipping for the products will be shouldered by you.
+ Moon Lamps are universal. Therefore, regardless of age, sex, or origin, these lamps are able to cater for all your domestic lighting needs including outdoors or reading in the library. Furthermore, the lights are made in such a way that they are able to suit your household requirements. It helps in widening the market according to use.
+ Specialization in moon lamps ensures that Lunar Effects deliver the best lighting products in the market. Also, it helps them, to improve their commodities to meet the market quality and standards through innovation and research. The range of goods from Lunar Effects is not that long. This, therefore, enables the company to keep up with consumer expectations and specifications about the lamps they purchase.
+ each unit of a moon lamp from Lunar Effects comes with a user manual where you can learn simple ways to use it if you are using it for the first time. However, it is rather straightforward on how to use this commodity. Moon lamps come with a mounting stand which is easy to set up. Thereafter, you will have the lamp and a cable which you will plug into the charging adapter for about 4 hours to ensure a full charge. Then you will light it and enjoy its theme in your home.
You can have a moon lamp made especially for someone you love as a gift. It can be for a sister, mother, best friend, etc. this is possible since the company can design and make a lamp that is in line with your specifications.it can be made with effects on one side and a message to your loved one on the other, making the perfect gift through any event, holiday or occasion.
The bottom line
Since the company is trying to go green, it makes use of the plastics that are recyclable and cheap to make. This helps in maintaining a clean environment and prevent cutting down of trees for paper. Also, the company is dedicated to providing quality products for its customers. Therefore, they welcome prospective clients within the family fold by offering the best customer care team.
Graphics used to decorate these lamps are exclusive NASA photographs. Therefore, they give customers real space experience in their home or office. Also, the lamps are portable; hence enhancing great user experience.
Starting at only $34.99, these beautiful moon lamps will make the perfect addition to your home. You can grab yours now at www.lunareffects.com