Shopping
  A Guide to Men's Bags for Beginners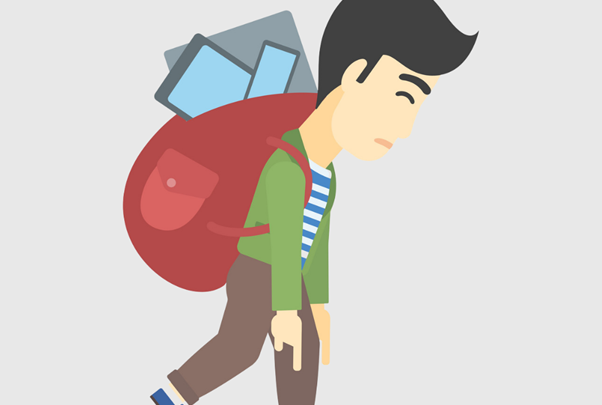 The phrase 'man bag' still sends shivers up the spines of many well-dressed men. But forget about cheap pleather and drawstring designs, as well as the dreadful (really lazy and out-of-date) tabloid lingo. A decent bag or clutch bag is a modern-day necessity that all males should carry with dignity.
Things to Consider When Looking for Your Bag
Here are some things you should always consider when searching for your ideal bag. From size and style to material and colour, you will discover all you need to know about these most useful accessories right here. If you choose well, you will have a bag for the rest of your life.
#1 Size of the Bag
Forget what people have been telling you; size is crucial, especially when it comes to your bag of choice. The most decisive element in selecting the appropriate size bag is understanding its primary use. You can only fit so much inside a mini bag.
Choosing a folio or briefcase is enough if you only need a bag that will protect crucial business papers and your tablet or laptop. Get a weekender if you want something to transport your exercise gear to and from the office. It can also serve as a carry-on for overnight trips. Opt for a messenger bag if you require something hands-free and easily accessible. Consider the usefulness and practicality of the bag over the design that appeals to you the most. Aesthetics only comes afterwards.
#2 Bag Colour
A bag should be a timeless buy unless you have more money than good sense. As a result, it is best to avoid unusual or trendy colour combinations. For your first bag, at the absolute least, you want something that you can use for both business and pleasure. It should also coordinate with everything else in your outfit. Traditionally, this implies choosing between deeper tones of brown or black.
If it feels a little too safe for you, consider modern neutrals like tan, grey, navy, khaki green, or burgundy. All of which are highly flexible and will not go out of style as quickly as colours like 'Millennial pink' or 'Gen-Z yellow.'
#3 Main Material
Choosing the material for your bag is critical if you want it to be functional, even for a mini bag. After all, there is no sense in going for a cotton canvas style if you will be drenched through rain every day. Similarly, if it will go through a lot of roughhousing, you should avoid fragile textiles like suede.
Here are the three most popular types of textiles used to make bags, as well as the applications for which they are most suited.
Leather – ​​Leather is regarded as a premium fabric. It lends a more polished feel to any bag. It is also important to remember that leather is not the most breathable fabric. As a result, folks who dress informally regularly may choose to select canvas or nylon instead. It is the perfect material for mens pouch.
Canvas – If you are looking for something that can take a battering and on a budget, go for a classic cotton canvas style. Fabric canvas is from high quality, thick woven cotton; or coated fabric. It is low cost and widely used by high street and mid-priced brands. You can also see a line of mens clutch bag designs from Louis Vuitton in monogram canvas.
Nylon – It is a durable material. It can withstand normal daily wear and tear. It is versatile enough to work with both tailoring and casualwear. Everything from ballistic to waterproof nylon is available on the market.
Detailing and Hardware – People often overlook the detailing and hardware when searching for a bag, yet they are a tell-tale indicator of quality. Even on a large backpack or a mini bag, the detailing and hardware should exude a level of quality that is exceptional. Consider the following attributes when making your choice:
Sturdy metal buckles and fastenings;
Reinforced stitching at stress points like where the handle joins the body;
Quality zip closures (many consider YKK as the best on the market);
All outside edges and corners have protective leather piping.
In the end, your taste will always determine which design you should pick and in what style. However, keeping these aspects in mind will enable you to get full use out of your bag.
6 Bags that Fit the Modern Gentleman
Here are six styles that fit any modern gentleman of all lifestyles.
#1 Classic Holdall
A weekender is a holdall that fits ideally between a suitcase and a backpack for a short journey away. The holdall is the answer to all your packing needs. You can use it for a staycation or a short-haul trip to another city for the night. Some will include buttons on either side to release when you need extra room. Some brands also include a mini bag to hold small items.
#2 Versatile Tote
Because of its practical, versatile features, the tote bag is a popular choice for both men and women. A tote bag is a versatile option that may serve as an alternative to a business briefcase. A tote is the fitting smart-casual look with its sleek and classy silhouette, especially leather or nylon. There are zippered choices for those of you who are concerned about security.
#3 Sturdy Backpack
The backpack has seen a renaissance recently, thanks to its hands-free, utilitarian appeal and a slew of high-fashion designs. The twin straps make charging across the city a breeze, with an equally distributed weight balance over your back, making it ideal for commuters and guys on the move. You can also find a mini bag or backpack to carry only the essentials.
#4 Handy Briefcase
A zip (ideally with a lock) is vital for keeping laptops and important documents safe from prying eyes. A briefcase, the essence of formal baggage, will always look its best in high-quality leather. Gone are the boxy rectangles of yesteryear, and in their place are curved, modern variants of this classic mens bag.
#5 Practical Messenger
A messenger bag is similar to a tote but on a smaller scale. A person will carry it across the body. They traditionally come with quite a long shoulder strap, as well as a flap over the front (zipped options provide a more contemporary take) for ease of access while on the move. They perform best in hardwearing materials that can withstand battering. Look for waxed/coated pieces of cotton, canvas and nylon.
#6 Convenient Portfolio / Pouch
If you want to remain undetected, a portfolio is your best chance. Leather is the preferred material for a mens pouch since it is a straight replacement for a typical briefcase. A well-sized version, sometimes known as a document holder or bag, will fit a tablet or small laptop with crucial documents for your next meeting.
Men love the Louis Vuitton brand because it embodies style, elegance, heritage, and modernity in every item. There are various mens bag designs, from backpacks to a handy clutch bag, that you can choose. The brand also offers an assortment of shoes, jewellery, sunglasses, and even perfumes. Check out the nearest Louis Vuitton boutique for their selection of products.