Health
9 Effective Tips on How To Recover From Sports Injuries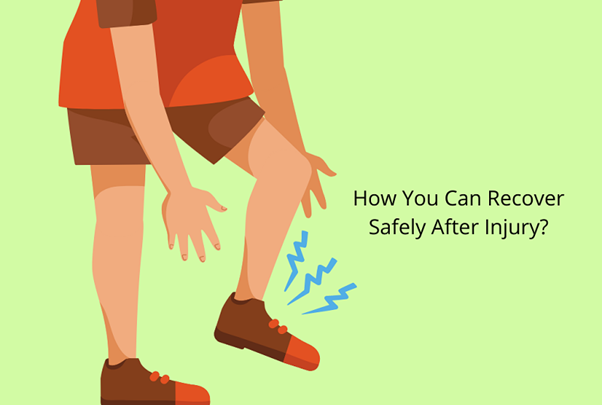 As an athlete, running, playing, and competing with your teammates are things you might like doing every day. However, as you are more likely to win if you train hard, you are prone to sports injuries.
The majority of the time, minor concerns are self-resolving. However, you may experience an acute or persistent injury from time to time. To avoid an even more severe health concern, you should not overlook such an issue.
It's not easy for athletes to sometimes accept sitting on benches and getting sidelined. It is why visiting a sports injury specialist is necessary for active people injured in collisions or falls.
To make sure your healing journey goes well, you can try some recovery tips.
How You Can Recover Safely After Injury
Athletes who return to competition before recovering from an injury run the danger of re-injury and an extended recovery period. When you've suffered a sports injury, you'll want to ensure you get the proper care. It is possible to speed up your recovery if you receive an early diagnosis, treatment, and adequate therapy.
1. Get the right diagnosis
Getting a correct diagnosis is always the first step in any healing procedure. Before you can begin rehabilitating an injury, you must first understand it. You can only know more about your situation if you ask for a thorough health check up in Singapore.
If you are not confident enough, get a second and even a third opinion if you need it because the wrong reading might delay your healing. Take all measures necessary to obtain an accurate diagnosis.
2. Read testimonies
Aside from visiting a sports injury specialist, you may also consider reading about previous experiences. It will help you overcome what you are experiencing. You can also gain tips from other athletes who have the same injury.
What kind of health screening promotion package do they take? Do they follow a nutrition plan? Having a familiar story will help you learn some helpful tidbits that will help you get better faster.
3. Take the time to research
If you want to get to know more about your condition, you need to do your research about your injury. Understanding your injury is essential to managing it and returning healthier than before. Make a list of questions you want to ask your sports injury specialist ahead of time.
Knowing more about it can help you heal better since you know everything. However, avoid reading sites that will only cause you stress.
4. Trust the process
Having enough physical and mental strength is not easy to have. Athletes learn to work hard through sports, especially when they are moving. How do you overcome the fear of taking a break?
However, you must learn and accept that having an injury means learning the recovery process. It's not worth the danger of re-injury if you try to speed things up. Consider visiting your clinic for a regular health check up in Singapore to know your progress.
Having an idea of how you are improving might motivate you even more.
5. Follow your treatment plan
Many athletes lose up when they don't see results immediately away, and that's acceptable in many cases. However, your treatment plan will only work if you consistently do it.
Even though your doctor will meet with you once or twice a week, they will expect you to keep up with your workout routine on your own. Follow the advice of your sports injury specialist. Do you have any minimal exercises to follow? What kind of daily routine should you follow? If you're entirely devoted to your therapy, it will significantly impact your overall recovery time.
6. Maintain a healthy weight
Resting doesn't mean you should ignore your health. Athletes in peak physical condition avoid injury and sustain injuries with less severity and recover more quickly.
How do you do this? Consider getting a health screening in Singapore to know more about your body. Once you have a comprehensive check-up, you'll learn more about what you should eat and avoid.
7. Start small
Your active recovery will begin as soon as your doctor gives the all-clear. To succeed, you'll need to work hard every day of the week. However, it's best to go slowly and gradually increase your activity to avoid any delays.
8. Maintain a good attitude
After an injury, the more physically fit you are, the less likely it is that you would re-injure yourself. It is essential to maintain a positive outlook to persist with the rehabilitation activities that will help you recover from an injury.
Depending on your level of injury, there is a long way to go before you can return to your everyday playing routine. If you want to make a full recovery, you'll need to put in long-term effort. It's normal to feel discouraged, but you should resist the urge to give up.
The more you look forward to safe healing, the more you will be able to attract it.
9. Get professional help
A sports injury specialist is the only person who can provide you with the best possible treatment plan for your specific needs. Developing a treatment plan in conjunction with your physician is critical for rehabilitation. You can only experience effective treatment if you get assistance from the experts.
Why visit a sports injury specialist?
If you are suffering from an injury, you'll receive the care you need from a sports injury specialist. By having a health check up in Singapore, they can diagnose and assess how you can heal the right way.
They specialise in treating musculoskeletal problems in athletes of all ages and ability levels. In addition, they provide sports psychology, nourishment, recovery, and treatment as extra services.
However, it can be challenging to find the correct doctor to diagnose and treat your sports-related problems. If you want to find the best centre, recommendations are the best approach. You can also get a referral from your primary care physician.
Before getting a health screening in Singapore, determine which specialists best suit your needs.
Get treated by Thomson Wellth Clinic!
Thomson Wellth Clinic offers health screening packages in Singapore, including medical consultation and blood tests. They also provide the expertise of their sports injury specialist who gives treatment plans for joint injuries.