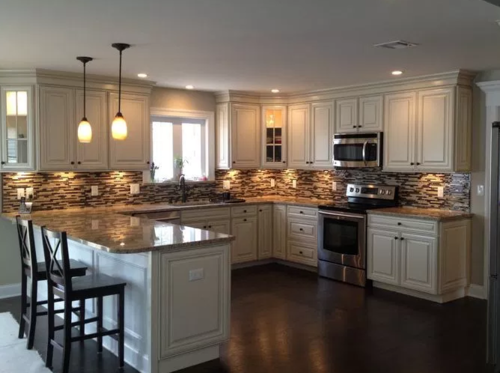 Kitchen is easily the most used and functional part of your home, and it must be designed with regular use and needs in mind. As a homeowner, you can choose to hire a carpenter to get the shelves and compartments done, or else, you can go for a modular kitchen, which is pre-designed in a factory and installed at site, customized to match your needs. In recent years, more homes have adopted modular kitchens, primarily because this is a concept that blends contemporary style with function and utility. If you are giving the idea a thought, here are some of the aspects that must be considered.
The layout
Space decides the kind of shape you can have for your modular kitchen. For instance, if you have a kitchen with limited width, a parallel-style modular kitchen might be a good idea. You can also consider L-shaped layout, or a standard U-shaped one with an island. For smaller spaces, one-wall modular kitchen is a great choice, because you can practically align everything on the same wall.
Storage
How many modules or cabinets you will have for your modular kitchen depends on the storage needs. For example, someone who lives alone doesn't really need cabinets all the way to the ceiling. Some homeowners prefer to have within the reach, so a standalone unit around the corner could be a great idea. Decide on storage before you look ahead for design.
Accessories
The cost of installing a modular kitchen depends on several factors, including the accessories. You can find layouts that rely on corner solutions or even automated elements. Some kitchens also have pull-out drawers, which have been customized to meet the storage needs. If you want extra things, like a cooktop or something like a corner drawer, you may have to pay more.
Materials
The material used for creating modules and cabinets does impact the price, but also matters is the finish. For example, acrylic and selected finishes are expensive, but look extremely stylish. The costs also depend largely on the backsplash and countertop materials. For instance, you can go for something like granite for the countertop, while a colorful glass or even quartz can be considered for the backsplash.
Design
Finally, you have to consider the design for a modular kitchen, which depends on custom aspects and ready designs. Many interior design companies have their own collection of ready modular kitchen layouts, which can be further tailored for your home. You can ask the design experts to visit your home, and based on rest of the interiors, they can suggest a theme.
Other factors to note
The cost of modular kitchen installation depends on all factors we discussed, but you can expect to get an estimate in advance. Make sure that you have selected a reliable and known company for your interior design needs, and don't shy away from discussing your design goals. Interior designers can bring new ideas to the table, and they can help in finding solutions that will turn the kitchen into a real functional space. You must also discuss the time required for the installation work, although installing modular kitchens don't take a lot of time, mainly because the actual design and manufacturing process is done in a factory.
Check online right away for modular kitchen design services!