Home
  11 Benefits of Wall Decorations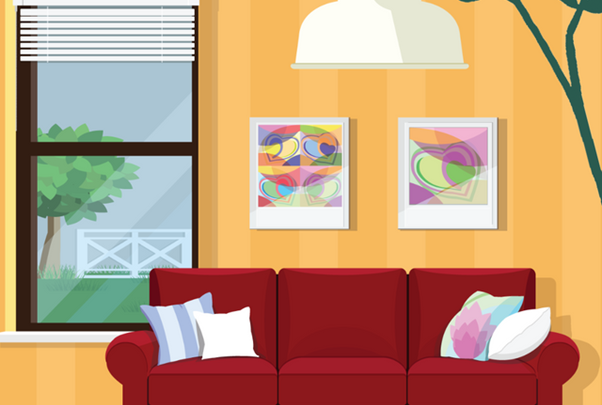 Finding suitable pieces for the decoration of the walls can be a time-consuming and exhausting effort. You are unsure of what will work with the colour of the wall, and if you opt to leave them as they are, they appear too empty and out of place in relation to the rest of your home's décor. When it comes to this issue, wall stickers from Singapore are a great option. Countless options for wall decals are available, ranging from nursery tree wall decals to stickers for bedrooms, dining halls, and even the living room. Here are some of the advantages of using wall decals.
1. High-quality materials.
Vinyl wall stickers from Singapore are of great quality, and they are built to last a lifetime in any environment. It is possible that they will live up to 5 years if they are left outside in the open. As a result, you can make educated guesses about how long-lasting the ones on the inside will be.
2. It is inexpensive and simple to implement.
It is far more cost-effective to decorate walls with wall stickers from Singapore rather than paint and hang artworks. The stickers are also much easier to apply because you can do it yourself and don't have to pay painters or other personnel; you also don't have to consult an interior decorator, which would cost a lot of money; as a result, you save money yet again.
3. There will be no mess.
Wall decor stickers, as opposed to wall paint, do not create a mess. You are not required to protect your flooring and furnishings from paint drips and stains when using this method. Furthermore, you will not be required to clean up after yourself.
4. An astonishing range of options.
Wall decor stickers are available in a mind-boggling array of designs. Take, for example, a look at the incredible wall stickers by IStickerShut.com.au shown in this post. You may find a plethora of additional resources on their website. There are various beautiful designs to choose from.
5. Do not make any marks.
Whenever you want, you can take down the wall sticker decoration and you won't have to be concerned about leaving any stains or traces on your walls. After the wallpaper has been removed, you will no longer be confronted with the unattractive walls that were previously present.
6. Apply them anywhere, quick.
Wall decor stickers can be attached to almost any type of surface. However, it is advisable to attach them on flat surfaces if you want them to last. Here are a few examples of places where you can attach wall stickers:
Windows and doors
Glass
Book Shelves
Mirrors
Stairs
Toy Chest
Attaching wall decor stickers to your kid's bookshelf or toy chest can be a good idea when it comes to decorating the child's bedroom.
As you can see, wall stickers from Singapore have an array of benefits to offer over wallpapers. They are not only cheap and easy to install, but they are also, durable, of high quality, easy to remove and come in an array of colours and designs.
Wall stickers are simply called that since they are meant to be applied to walls; however, you are not required to do so. Doors and windows, as well as glasses and mirrors, wardrobe panes, toy chests, bookshelves, and many other surfaces, are all suitable for usage with these products. Simply make certain that the surface is level. When it comes to decorating your children's room or nursery, you can make excellent use of these stickers to enhance the appearance of various objects in the space.
7. Cheapest and most cost-effective decorating alternative.
Wall decor stickers are available for purchase online at a price ranging from 150 to 500 rupees. You have to admit, it's an offer that makes you drool a little. You shouldn't be concerned about the long-term longevity of these decorative components. They are long-lasting, and the print does not fade or lose its vibrant colour with time! Furthermore, it is simple to apply to the walls and simple to remove once it has been applied.
8. Customised Interior design options.
Depending on your preferences, wall stickers from Singapore can be customised to match the ideas you have in mind for your home or office. You have the option of hiring a professional to cut out the designs for you, or if you have an artistic streak in you, you can do it all yourself with a little help.
9. Dust and waterproof.
Wall decor stickers are made of high-quality materials and are designed to last a long time. So you won't have to be concerned about attacks from dust and wetness caused by these gorgeous decorative elements. They have the necessary strength to withstand such an onslaught.
10. The process of decorating is simple.
If you don't fancy the idea of spending hours hanging up wallpapers, wall stickers are an excellent alternative for that. If you also have a relatively small budget for wall decoration, wall stickers are the answer. They are not only cheap, but they won't demand hours for the installation.
 Wall stickers from Singapore are the quickest and most affordable method to decorate your home. If the old one becomes out of date in your opinion, you can easily peel it off and replace it with a new one with relative ease. Never fear, the paint behind that old sticker will not be removed along with the sticker itself. Furthermore, you can change the stickers to suit your mood at any point during the day.
11. It has an uplifting effect on you.
Your pleasant mood can be enhanced by the use of wall stickers from Singapore, which can also increase the appearance of your otherwise plain walls. They raise the glitz and glam factor of your personal space, thereby making your room stand out from the rest of the house.
If you need professional help transforming your interior tones, contact the best wallpaper supplier in Singapore, Frekkles Pte Ltd for an exceptional wallpaper installation in the comfort of your own private space.