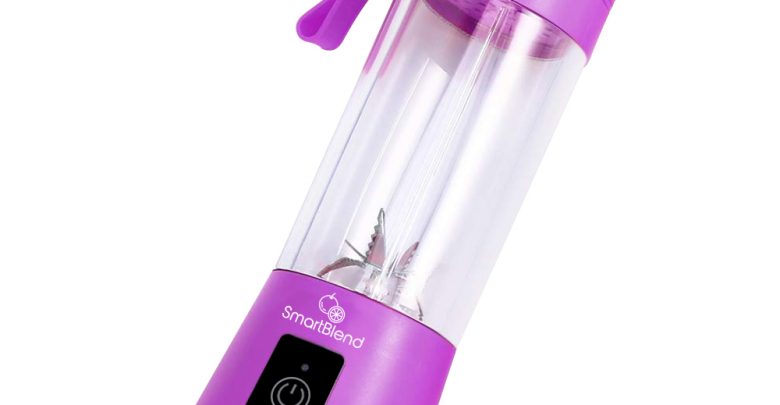 For a long time now blenders have been considered to be kitchen appliances. Lately, the market has flooded with convenient electric blenders which are low capacity and much lighter to enhance portability. Some have come with advanced features which makes them to be trendy and up to modern standards. This comes at the time when some people survive on fast food stakeouts since they don't have time to cook or even fix themselves some juice. 
It is quite convenient to carry around these gadgets for small blending needs while travelling, at the office or out for picnic. These blenders come with a storage battery and a charger. It is now easy to get all the necessary nutrients even if you are a stakeout person. One of these blenders is the SmartBlend portable blender from the Australian firm. We explore these blenders in regards to their features, benefits and other unique specifications they possess.
Features of SmartBlend blender
Preciseness: the SmartBlend blender is made in a comfortable small size that can easily fit in confined spaces. The height of the blender is only 23.5 cm which includes the bottom motor area and the container. The capacity of the container is 380ml. This is roughly one cup of a liquid in it. With its sleek design, you can carry it in a small bag, in the car or it can be carried just by suspending it in the hands. It is more or less the size of a water bottle – which you carry in your hand. Moreover, with a width of approximately 8 cm, there aren't many backpacks or lady purses that cannot accommodate these blenders. 
Power: The blender comes with a battery which has power capability of 150 Watts. This battery is able to sustain the blender for about 10 to 12 times on a single charge. Also, it powers a motor which pushes the blades to do 15000 revolutions per minute when loaded and 22,000 revolutions without any content. This power is therefore enough to blend your favorite ingredients.
Color: the blender comes in an array of colors ranging from black, blue, green pink, red and purple. From these color varieties, you are able to choose one that reflects your preference. These colors combined with its elegant design makes it attractive and can even be placed on your office cabinet to enhance the beauty of the room, and complement the colors of the office. This could be the trigger that helps to brighten your days at work. 
Practicability: the blender is made with preciseness of a bottle to enhance its convenience. It is made with practical expectations for travellers, office goers, gym goers, and even home dwellers. It can be very convenient for a person straight from working out to hit those protein foods immediately. The SmartBlend blender is here for that. So, instead of carrying with you a water bottle, just carry the blender and those proteins you intend to crush and have your go after the exercise. 
Also, you can employ your blender for small house blending chores when you are finally at home. While travelling, you can take it with you to enjoy smoothies or a shake on your travel.
Additional specifications
This portable blender is specifically made with futuristic reasoning. It comes with extra accessories such as the USB charger cable, a manual book, and the main cup. The USB cable helps to charge the blender from wherever you are. In the car or the office; so long as you have a USB plug adapter, then you are set to go. There is a provision for charging the gadget by use of a USB power bank. This is a first of many market brands. Unlike the "stay at home" blenders, this can actually be used without necessarily waiting for electricity to be available.
Furthermore, the blender comes with a manual book for the beginners as well as a cleaning sponge. Since this is an electrical device, you are discouraged from letting it to come in contact with water. This may result in damage either temporarily or completely.  Therefore, while, cleaning, exercise caution not to tamper with the base, neither should you clean the base which contains the battery and the motor.
Additionally, the blender comes with a 50 unique recipes of different smoothies to help you improve food creativity and new tries. It comes with a rubber lining between the blending container and the base to prevent leakage into the base. 
How to use
Here are simple steps to using the SmartBlend blender:
Allow the gadget to charge for two to 3 hours

Tighten the container to completely secure the base

Add a liquid in the container

Cut fruits or veggies into small pieces

Poor them into the container containing a little amount of water

Tilt the blender over an angle of 60

0

or through and angle of 180

0

Now turn the blender on while it is still slightly tilted and change the movement's as you vary through angles as it blends your contents. 

You can some water and continue blending at this point. 
To prevent clogging the system by blocking the blades, you are advised to avoid putting large pieces into the blending container. Also, ice must never be blended without a liquid and finally, the blender especially the bottom part should never be put inside the dishwasher.
Benefits 
Easy to carry around

Convenient to use anywhere

Consumes less power

Comes with a three-year guarantee

Free shipping costs in Australia 

Secure
The bottom line
SmartBlend blender is one of the very best in the market with its sleek design that is able to fit in any bag it is stashed. The fact that it comes with a strong battery with enough power to rotate the motor through 22,000 revolutions per minute for 12 times on a single charge proves how superior this product is. The quality matches the superb features and the extra specifications that make the product to stand out. Its ability to be charged on the go with a power bank and a USB cable proves how convenient it can be. 
Ready to purchase yours? Just make your way over to www.smartblend.com.au and get yours now!