Fashion
A Mens' Guide on How to Find the Perfect Outfit With Your Bags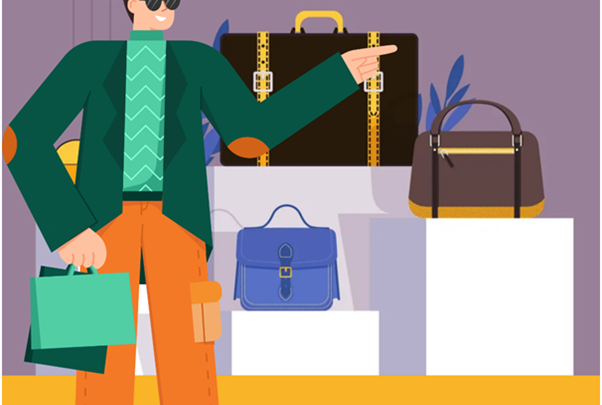 We all know how the stereotype goes. How often have we pictured women painstakingly taking hours looking for the best handbag to carry with them on their next outing? Compare that to the image of men taking only minutes to dress up and just choosing the first thing they see in their closet. For people who've been exposed to these cliches, it might feel futile to choose mens designer bags for them to wear. Why should you spend all the time, money and effort on something that might not be appreciated?
But choosing a great bag is anything but frivolous. Having enough room to store your valuables isn't just a concern that girls have to face. Men also need to carry belongings for later use during outings. And yes, just like women, men also need to have the right bag for the occasion.
A bag that you use for your weekly gym workouts will be far different from the bag that you will use for your business meetings. Your bag is an accessory that will complete your outfit. Have you thought about creating a wardrobe that suits every occasion you might find yourself in? You might want to invest in a selection of bags to pair with your outfits.
Why pair outfits with your bags?
Choosing an outfit to wear is easier said than done. Unless you're the type to throw on the first thing in your closet, you might want to take more than a few seconds to consider what you want to put on. Buying mens shoulder bags and other bags, and then only sticking to one favourite for every occasion, won't give your appearance a lot of versatility.
The truth is, both clothes and bags work hard to give you a unique style and appearance. But even a great outfit with accessories can clash with a bag that is ill-fitting for the attire. For example, on a casual outing, you wouldn't want to seem too overdressed. An expensive and formal clutch-type bag might give off the wrong idea.
Want to learn more about how to pair bags with your outfit? Here are some basic things you need to pay attention to when you're choosing a bag to go with your outfit.
1) Your style. A lot of people develop personal preferences when it comes to expressing themselves. Your wardrobe is the perfect medium for doing that. Do you gravitate towards darker clothing? How about a sporty style? Perhaps you want to go for something more retro. You can easily find mens shoulder bags in styles that fit yours perfectly. Buy a bag that fits the style of your outfit to complete your look.
2) The setting of your outing. What's the setting of your event, and why did you choose the type of outfit in the first place? Are you going to wear something to an important event, such as a wedding of a friend or relative? Or maybe, you plan to get together with your friends. What about a bag for the office? Either way, you must consider the setting of your event when choosing a bag to use.
3) The colours, theme, and patterns of your clothing. What blend of colours and patterns have you chosen for your outfit? Sure, you might choose a bag that is appropriately casual or formal enough for the event, but if it comes in a colour that clashes with your clothes, you're better off skipping it.
4) Whether your event is casual or formal. Your everyday outfit probably looks way different from the ones you use in an important corporate meeting. Therefore, your bag will look different too. For example, buying mens messenger bags will probably be more appropriate for office-related jaunts.
Types of outfits and the bags you can choose
Are you struggling to decide which bag to use with which outfit? Here are some types of outfits and some bag styles which go best with them. This might help you narrow down your list of possible choices.
1) Your casual and everyday outfit. You can explore a wide range of styles when it comes to your wardrobe. If you're looking for a bag to complement your everyday outfit, you can start with some of the most popular bag types. For men, shoulder or crossbody bags have become extremely common everyday wear. Those who carry few belongings might be interested in pouch-type bags like fanny packs that attach to your waist or belt.
2) Your office or corporate outfit. No self-respecting businessman should be caught without a nice bag that can fit items like important documents, folders, writing implements, and more. Messenger bags are a longtime staple for business executives and those who work at corporate jobs. Their sleek design and many pockets ensure that you stay organised while at work.
3) Your travel outfit. Travel outfits look a lot like casual outfits, but since you'll have many more items to carry on your trip (such as extra clothes and toiletries) you're going to need a larger bag. The best type of bag to bring on a trip is a large backpack. Many brands offer bigger travel-sized alternatives with special features such as waterproof surfaces, extra zippers and storage, and a sleeve to put thermoses and water bottles.
4) Your formal event outfit. Men at formal events might wear suits and other types of clothing that they wouldn't probably wear outside of the occasion. If you're preparing to go to an event like this, you don't have to rely on the pockets of your coat or tuxedo. If you need storage. You should find mens clutch bags and other similar types of bags for this occasion. Yes, these types of bags are available for men.
Louis Vuitton is a world-renowned top luxury brand that provides only the best in both women's and men's bags. Looking for more wonderful accessories, like a mens clutch bag? Learn more about how you can find the latest in premium fashion when you check out their website.