Travel
5 Tips for Choosing a Campsite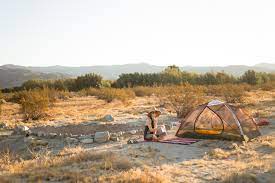 Sometimes you're so excited to arrive at the campgrounds that you just pull up to a spot and begin unloading. Everyone gets the campsite all set up. Then you grab a refreshing beverage from the cooler and begin to relax. That's when you begin to notice the details that can negatively affect your trip.
Follow these five tips for choosing a campsite on your next camping trip to add more fun to your adventure.
1. Level Land
All campgrounds have different topography, which makes each one exciting to visit. However, for your campsite, you want to find a place that's level. Views are great to have, but flat ground to set up your tent and lay down your sleeping bag. Sleeping at an angle usually will not result in a restful sleep!
While you are checking the land for how level it is, pick up any debris other campers might have left behind. And move any sticks, rocks, and pinecones that would make sleeping uncomfortable.
2. Campsite Facilities
It can be lots of fun to be close to the action. However, setting up camp right next to the facilities at the campgrounds can be disruptive. People coming and going at all hours can disrupt the peacefulness that you were seeking in nature. Bathrooms in the heat of the summer do not always have the most pleasant aromas! The same, at any time of year, goes for dumpsters that the campgrounds might provide.
3. Nature's Attractions
One of the biggest allures of camping is enjoying nature. When you select a campsite, keep in mind why you are there. You want easy access to hiking trails, swimming areas, fishing holes, and more. Also, locate your campsite near fresh water. If your water sources will be a stream, consider its location before you set up camp.
4. Nature's Distractions
The power of nature also needs to be thought about before you drive in the stakes to pitch your tent. Check the trees around your campsite. Look for any that are looking unhealthy. You don't want to be near them if it storms while you are camping. Ideally, finding a campsite that provides a bit of shelter would be a terrific choice.
While you do expect to encounter a few bugs in the woods, you do not want your campsite to be situated next to standing water. Stagnant water can breed mosquitoes, which can make your trip less than enjoyable.
5. Sunrises and Sunsets
Who doesn't enjoy a glorious sunrise or sunset? Most of us don't want to experience both on the same day. When you are selecting your campsite and pitching your tent, consider the orientation of the tent. If you are not looking for an early wake up, be sure that the sun won't be filtering in your tent too early.
Depending on the time of year, you want a site with more or less sun exposure. In the summer, your tent can warm up very quickly if you do not have shade. Conversely, in the cooler months, you will want some of the sun's warming rays.