Business
Know About Top 3 Event Management Companies in Dubai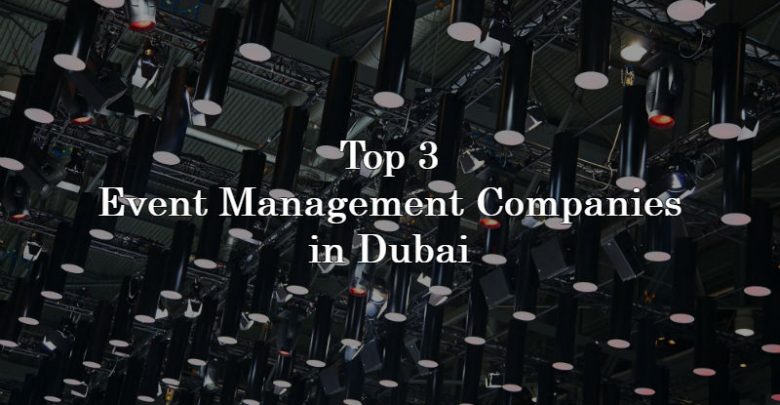 Need help to host a high-end business dinner for 1000 guests or turn a blank canvas venue into a fairytale themed wedding? Check out these top 3 event management companies in Dubai that will surely make it a memorable event for you and your guests.
CWE – A team of diligent, dedicated and highly creative top event professionals with a vision of producing unexpectedly unique, powerful and innovative events makes it one of the leading and award-winning event management companies in Dubai. The meticulous team strongly understands and believes in the uniqueness of every event and works hard to add a fresh perspective to them while catering to the clients' needs. 
Their long and impressive chain of work includes weddings, gala dinners, award ceremonies, road shows, expeditions, fashion shows, birthday celebrations, corporate events, team building events, product launch, exhibition, trade shows, model management, brand activation, and much more! Their events are a perfect blend of creativity and latest technology. They use world-class tools and equipments for the event production to provide customizable and cost-effective stage, backdrop, lighting, décor, furniture, audio and visual equipments to their clients. Moreover, they also provide international and domestic entertainers, artists, models and promoters for different events. Thus, they are a one-stop-shop that caters to all your event needs. 
Whether it is a medium scale event or a large-scale event, they are experts in providing an unforgettable experience to their clients with their services. 
Get in touch with them-
Office Address: 806, Park Avenue Building, Dubai Silicon Oasis, Dubai U.A.E, P.O. Box 7275
Contact Number: +971 4 236 0534
RedFilo is another event management company in Dubai. They are well-known for organizing highly creative events blended with innovation. They specialize in MICE events, i.e., Meetings, Incentives, Conferences and Exhibitions. They are also popular for organizing various thematically adorable and frolicsome festivals. The events are high on entertainment quotient which includes international shows and live performances. 
Get in touch with them-
Office Address: RedFilo International Events Management Llc, P.O Box 117121, Dubai U.A.E
Contact Number: +971 4 399 9225
Promo Events and Exhibitions
Promo Events and Exhibitions is also an event management company in Dubai. They integrate creative strategies and superlative technology to make it a memorable experience for their domestic and international clients. They are known for organizing and hosting a wide breadth of events like MICE conferences, events, trade shows, seminars, product launches, exhibitions, brand activations and even weddings. Promo Events is loved for providing quality events to their clients while keeping the budget, campaign objectives and cultural landscapes in mind. 
Get in touch with them-
Office Address: Warehouse no. 10, Plot no. 368/531, Al Qouz -3, P.O. Box 393727, Dubai, U.A.E
Contact Number: +971 5 22536011