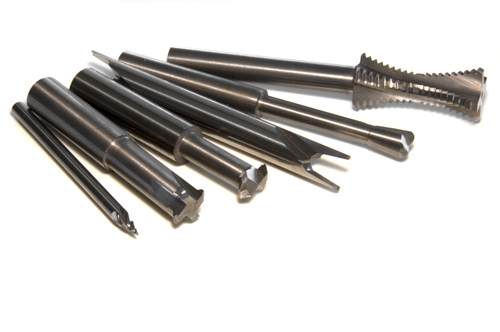 For specific machining applications, standard, off-the-shelf options are insufficient. However, a custom cutting tool solution produced by custom tool manufacturers can reduce costs, increase productivity, and improve overall part quality. There are numerous reasons for a tooling company to invest in a custom cutting tool. For instance, combining a counterbore, drill, and center drill into a single cutter equates to less time spent on tooling changes. Also, in the instances of limited tooling stations, a custom tool is the difference between completing the part efficiently using a single operation and not.
What is a Custom Cutting Tool?
Companies that machine hydraulic manifolds immediately consider the porting tools used to create fluid connections. Although these parts are not limited to custom tooling, it is an excellent example of the possibility when companies decide to go the custom route from custom tool manufacturers. The term "custom" describes more than only hydraulic equipment. It could relate to an external grooving tool insert that creates a chamfer at the top of the groove post-cutting. It could also mean extending the drill length, adding an extra flute to an end mill, material-specific geometry, a proprietary thread form, a form cutter of a unique shape, or just a one-off type of porting tool.
Custom tool manufacturers agree that a considerable amount of time is spent developing specialty cutting tools because the customer needs to produce their parts in less time or they saw a similar tool at another toolmaker's shop and want it to work similarly with their products. The tooling company takes those requirements and works within specifications that meet the customer's expectations.
Why is it Important to Consolidate Tools?
Although all industries are using custom tooling manufacturers to create part-specific tools, automotive has the lion's share with the aerospace, machining, and energy industries not far behind. For these markets, tool consolidation is the greatest driver to reduce cycle time which equates to significant cost savings during the manufacturing process. However, the benefits of custom tooling exceed cycle time reduction. Simplifying the machining process, improving magazine or turret space, and creating special forms are the primary justifications for investment but custom tool manufacturers are regularly designing new geometries, coatings, and carbides to bolster machining performance. Many of these developments make their way to the standard tooling catalog.
For customers, the benefits of creating custom tools and cutters are endless: reduction in processing time, creating unique geometry to have a competitive edge, enter a more automated process, and, most importantly, considerable cost savings through consolidation. With the continued advancement of cutting software and machining technology, tooling manufacturers can make the tools faster to meet the continuous demand for quicker turnaround time.