Fashion
Challenges Parents Face When Buying Children's Clothes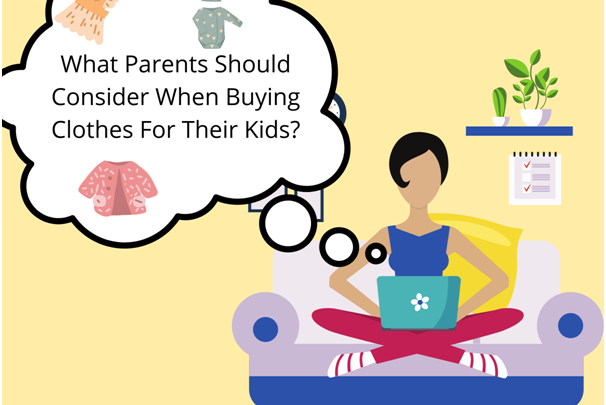 One of the challenges many parents face is shopping for the right clothes for their kids. Choosing a skirt for girls might be easy as it seems, but for meticulous parents, there are lots of factors and elements to consider. However, for first-time parents, these factors are a blur, which results in making mistakes when buying one. But once you determine the criteria for kids button down shirts and dresses, shopping for clothes will be a lot easier.
Apart from choosing clothes for your child, letting your children pick their own dresses and shirts in the shop has benefits as well. It trains and prepares them for their future responsibilities.
5 Factors Parents Should Consider When Choosing Clothes For Their Children
As parents, we only want the best for our children, whether it is the food they eat or the clotheswe bought in a boutique at the corner of the street. By setting criteria in our shopping list, we would be able to select the best choice for our children. Here are the factors parents should consider when buying their kids a polka dot shirt or dress:
Safety Of The Clothes
Like children's toys, clothes can also cause accidents, especially in infants and kids.
Firstly, check the entire design and style of the dress for girls. Clothes with long strings and straps are dangerous for children and infants as they can choke or strangle the limbs and neck of your toddler or infant while playing or asleep. At the same time, these loose strings and straps can be trapped or be "eaten" by machines, such as electric fans, escalators, and elevators.
Secondly, check the prints of the dresses. Some clothes use harmful chemical paints for printing designs in the kids' polka dot shirt. Sometimes, the designs and prints involve beads and sequins, which are tiny enough to swallow. Make sure that the chemicals used in printing are safe. The beads and sequins are sewn tightly and cannot easily be taken off.
Lastly, as much as possible, choose a skirt for girls with hypoallergenic fabric material to prevent triggering skin and respiratory allergies.
Durability
Kids, especially those aged between 5 to 8 years old, are more active and like to play physical games. The clothes you will choose for your child, including some kids button down shirts and pants, should be durable enough to withstand strains.
Usually, clothes with weak seams and stitching and thin fabric often get ripped due to shirt dragging and stretching while playing. Make sure to double-check the seams of the shirts. The button should be well-sewn, and the fabric material is thick enough.
It is better to find clothes or baby materials that do not wear easily, especially after several times of washing. Clothes and other baby essentials like bibs and nappies get stained frequently and require more cleaning than other clothes.
A high-quality fabric material retains its soft texture and will not fade in colour nor produce lint and fluff. Inspect the quality of the handiwork of the clothes when buying a dress for girls.
Functionality and Usability
No doubt, it is fun to shop for kids button down shirts, swimwear, and parkas. However, parents should remember that functionality of the clothes matter.
It is ideal for parents to cut back from shopping for seasonal clothes for children. Children grow up so fast, so stocking up jackets for colder weather or winter (for overseas vacation) is unnecessary since they will outgrow them soon.
It is better to buy clothes that they usually wear, including a Sunday dress for girls and a breathable undershirt. Purchasing high-quality clothes that are mostly used by your children gives you the best value for your money.
Parents should also consider clothes that can easily be worn by kids alone. It is okay to purchase dresses or shirts with back buttons and zippers, but, as much as possible, buy clothes that are not difficult to wear or do not require assistance.
Proper Fit
Luckily, getting proper fitting clothes for kids is much easier than for teenagers since their bodies are not really developed in various shapes. Despite this, parents should still consider the body shape of children, especially when it comes to smaller and bigger sizes.
When purchasing a skirt for girls, make sure to measure the waist and hips beforehand. There are cases where skirts and pants perfectly fit the waist but are too small for the hips, thus wearing and taking them off are a struggle.
Another phenomenon to consider is that children grow fast. As much as possible, measure their body proportion and height from time to time. Their measurements may not be the same as last month, so to prevent returning unfitted cuts of clothes, measure your child regularly.
Brand
We often link the quality and price of the clothes with the brand. Some misconceptions branded clothes include branded clothes are the ones with high-quality work and materials.
It is not always the case. Nevertheless, brands assure their customers of the safety and the quality of the materials used for a dress for girls, including the fabric, paint and colouring, threads, zippers, and buttons.
At the same time, it is easier to come after clothing brands in case of concerns involving legal process than suspicious and rogue apparel manufacturers.
There are also parents who are keen on the manufacturing practice of popular brands. Today, many clothing brands and lines are in the hot seat for using raw materials harvested through labour malpractices in some countries.
If you are critical about the manufacturing process and product quality, it is advisable to consider the brand as well.
5 Reasons To Let Your Child Pick Their Clothes
Adults tend to choose kids clothes like a polka dot shirt and an overall for infants and toddlers. But for children almost reaching their preteen years, letting them choose their own clothes is good preparation and training for handling responsibility and discovering their self-identity.
Here are the benefits of letting your child select their clothes.
It Encourages Self-Expression
Self-expression shapes the personality and character of your children, which they will bring into their adulthood. As simple as letting your child choose their dress for girls or jean pants for boys is an effective tool to encourage self-expression.
Upon choosing their clothes, children can voice out their opinion regarding the selection. It opens further discussion on their preference for clothing, style, colours, and comfort. It trains them to form and organise their thoughts as well as teaches them how to explain their sides and perspective in a clearer way.
Besides voicing out their opinions, they also show their self-expression through their styles. Like drawings and music, children also express themselves through fashion. They may be influenced by what they see on TV, the internet, or their friends, but slowly, they will discover their style.
It Encourages Individuality
Once your child has graduated from copying their favourite celebrity or icon's fashion style and starts to wear their fashion preference, they slowly develop their individualities.
One of the beauties of letting your kids choose their individualities is it builds their confidence. Having a strong sense of self encourages children to accept and embrace their uniqueness and difference. It also teaches them to be confident carrying their own body by having the freedom to express themselves through fashion.
Believe it or not, kids have reasons why they choose button down shirts. Unlike adults, children have wholesome and adorable reasons for their style decision. You learn more about your children by simply discussing it with them.
It Teaches Your Kids Budget Management
Preteen years is a good period to teach your children about money management, such as spending and saving.
You can teach your children about wise spending by letting them choose the dress for girlsthey like. You can introduce weighing the wants and needs in the form of clothes; the factors they should consider when shopping like price and discounts; and the importance of managing pocket money and savings. It is essential to teach them how to control impulse buying.
The knowledge and early training on budget management are very beneficial until adulthood.
It Trains Your Decision-Making Skill and Builds Sense of Responsibility
Linked to budget management is decision-making. At an early age, you can hone children's decision-making skills by giving them the freedom to choose their clothes.
Does your daughter consider her needs and buy a skirt for girls or perhaps tend to lean on wants and purchase a pretty dress for girls? Would your son choose to save the shopping money or spend it on clothes?
Of course, every decision has a consequence. Giving them the freedom to choose for themselves also builds their sense of responsibility for the consequences of their decision. Their experience will help them figure out what they should have done instead and what they should do next time.
You teach your children the importance of making the right decision by simply allowing your kids to choose their button down shirts.
They Will Wear The Clothes They Bought
It is a common scene in a household to see a child throwing tantrums because they don't want the clothes their parents want them to wear. However, when you let your child choose their own clothes, they will proudly wear them. It gives them confidence and a sense of achievement.
It also encourages your child to dress and present themselves nicely, wearing the clothes they choose and order themselves. They will also take good care of the skirt for the girls they purchased.
Learning how to dress and present themselves neatly to other people is a habit that is beneficial until adulthood.
Common Mistakes Parents Make When Shopping Children's Clothes Online
If shopping for kids button down shirts is already a struggle in a physical boutique, how much more in an online platform? Whether you are buying a dress for girls or guiding your daughter for herself, here are the five common mistakes you should avoid when shopping for children's clothes online.
Shopping From An Unreliable Website
Parents should be extra careful when purchasing children's clothes online, especially from a suspicious website.
Apart from unknown clothes manufacturer and origin, you are not assured that the quality of their product is up to standard. Do they use harmful chemicals and glitters in their clothing selection? Is the fabric hypoallergenic, as stated on their website? Be cautious when shopping for a blouse and skirt for girls.
Not Checking The Return Policy
Before you browse for their collection and add them to your cart, check their return policy first. First-time parents and first-time online shoppers are bound to make mistakes on their orders, including purchasing the wrong size and receiving the wrongdress for girls. In this situation, the site's return policy is your greatest defence. Do they accept the return and replacement of products? What are their conditions to become eligible for such a policy?
Not Checking The Shipping Cost
Shipping charges an extra fee to the total amount of your purchase. Sometimes, some websites ship their products from overseas to your place, which is more costly than items that are already available locally.
On the other hand, there are online stores that offer free shipping with a total amount requirement. Parents can take advantage of these offers when buying their kids a polka dot shirt.
Ignoring Reviews and Feedback
Another way to see if the online website is trustworthy is through reviews and feedback. Parents alike post pictures of the actual skirt for girls and their feedback on the items and customer service in their review section.
However, beware of too much positive feedback since websites can create dummy accounts to leave a five-star review.
Disclosing Personal Details
Some online stores require shoppers to create an account to get discounts and gift certificates on their products. Never input personal information nor save financial accounts upon signing up if you are already dubious about the credibility of the website.
Get comfortable yet fashionable kids' clothes in Singapore at SUNJI MISE. SUNJI MISE provides wide selections of stylish wear for boys, girls, toddlers, and infants. Visit SUNJI MISE today.