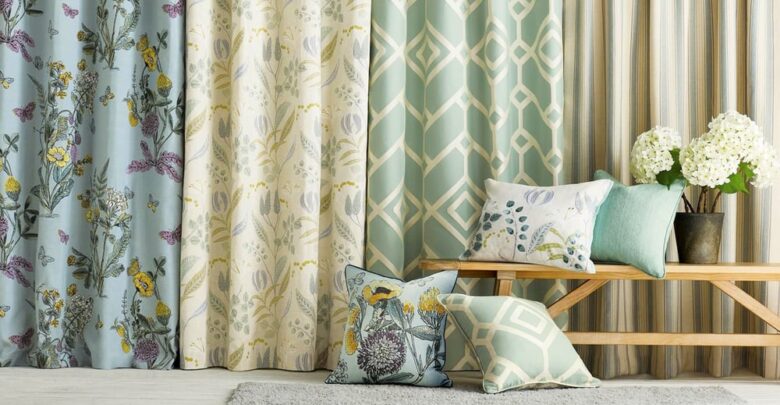 Curtains are a crucial component of house décor since they not only offer aesthetic appeal but also serve functional purposes like regulating light and privacy. But with so many different curtain fabrics, styles, lengths, and treatments on the market, selecting the best curtains may be a difficult undertaking. You will go over some essential advice in this blog post to assist you in choosing the ideal curtains for your house.
Research your window type
The very first step is to carefully measure your windows and note down the window type – whether it is casement, bay, arched or French doors. This will help you determine the right curtain length and treatment. For example, casement and bay windows may need shorter curtains that tie back or are on a track, while arched windows suit draped or swagged styles.
Consider the fabric
The fabric is one of the most important factors as it determines the look and performance of your curtains. Some top fabric options are:
Cotton or linen – Breathable, durable and great for casual styles. Needs ironing.
Polyester – Affordable, crease-resistant and comes in varied textures. Less breathable.
Silk – Luxurious look but high maintenance as it wrinkles easily.
Blackout fabrics – Thick, dense weaves that block out maximum light. Ideal for bedrooms.
Sheers – Translucent and airy. Allow diffused light.
Choose based on the level of light control, care requirements and desired aesthetic.
Decide on the lining
Decide on the lining for your curtains as it can make a big difference. Lining not only adds an extra layer of insulation but also improves the curtain's appearance from the back and helps them last longer when hung properly. Popular lining options are cotton, blackout or thermal lining which each provide their own benefits. Lined curtains tend to last longer and hang better than unlined ones when cared for appropriately due to the extra layer behind the visible fabric. Make sure to choose a lining that will keep the heat in during winter or block light as needed for the room's usage.
Pick a style
There are various styles of curtains to suit different window shapes, room themes and privacy needs. Some styles are panel, pleated, swagged, tiered, roman etc. Consider the room's architecture and your preference for a tailored or relaxed look.
Determine the length
The ideal curtain length depends on the window type and personal taste. As a general rule, floor-length or ankle-grazing styles work best for most windows. Shorter options like calf-length or sill-length are suitable for casement windows. Avoid curtains that bunch at the floor.
Choose hardware
Curtain hardware includes rods, tracks, rings etc. Consider the window size, weight of fabric and style when selecting hardware. For large or heavy curtains, opt for sturdy rods or tracks. Match the hardware's finish to the window frame or other fixtures.
Add complementary accessories
Tassels, tie-backs, and other accessories can polish the look. Choose matching or contrasting colors based on the curtain fabric and room's style. Accessories also improve functionality like holding curtains back from the window.
Consider care requirements
Check if the fabric can be machine washed, dry cleaned or needs to be hand washed. High maintenance fabrics may not be suitable if you have a busy schedule. Aim for easy-care options that do not wrinkle or fade easily.
Conclusion
With some research and by following the above tips, you can ensure your curtains perfectly suit your home's aesthetics as well as practical need, including considerations like bed size in australia. Curtains that complement the windows, meet your budget and care preferences will stand the test of time. Always measure accurately and do not compromise on quality to get curtains that beautifully frame your windows for years to come.