Featured
Recognizing the Weather of Lake Toba and Its Attractions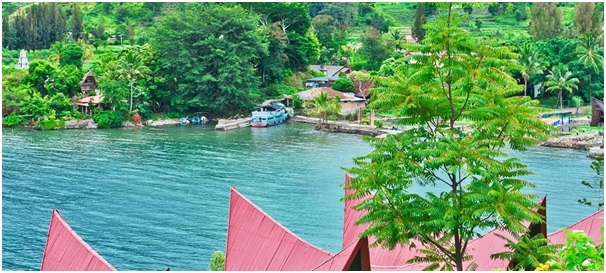 Lake Toba is located at Medan, North Sumatra, Indonesia. It has just two seasons, wet and dry. However, both seasons don't have any significant difference. Highlands and peaks surround Lake Toba in the island of Sumatra. The lake spreads out to match dramatic waterfalls and forested slopes, which expand into the shoreline. Needless to say, it's the largest volcanic lake across the globe, along with the biggest lake in Indonesia.
Selecting a motorbike is an excellent choice to travel around the lake. For your information, the traffic around Lake Toba is not as heavy as you thought. Even the residents will warmly welcome you along the way.
Recognizing The Weather in Sumatra
There are a few things you have to take into consideration while visiting Sumatra Island. Dry period falls roughly between February and October at North Sumatra and March to November at South Sumatra. With less rainfall, streets are more comfortable to navigate. Smaller islands are easier to get by ship as well.
It indicates that it is a tropical climate with high humidity and rain but a small variation in temperature. Through the calendar year, the temperatures only vary by a couple of degrees; the typical temperature of the whole island sits at 27-28 degrees Celsius (80-82 degrees Fahrenheit) year-round. Still, being slap bang onto the equator entails that night and day length are constant throughout the entire year. There are approximately 12 hours per day of the year, from around 6-6:30 am to 6-6:30 pm.
In recent years, the weather is unpredictable. In certain areas, it rained abruptly, while in other regions the rainy season has been delayed. Sometimes it rains very hard, but then it rains a little in the following months.
Best Time Visiting Lake Toba
There is no certain time to visit Lake Toba. When you come to Lake Toba during the rainy season, there are still benefits you may get. Even though the thunderstorm hit, the temperature in Lake Toba is cooler. So that you can always do outdoor activities.
But please come to Lake Toba in May. This month, the cold weather suddenly becomes warm. Again, the climate remains unpredictable because of the possibility of rain that comes unexpectedly.
In January and February, Lake Toba is also quite crowded due to the Chinese New Year celebrations. Well, if you come during these months pay attention to the prices because it usually will increase.
Attractions of Lake Toba
There are many tourist destinations you can enjoy during the trip to Lake Toba. Besides seeing the beauty of the lake, you can also take a tour to the island in the lake, namely Samosir Island. And here it is another cool attractions:
Tuk-tuk
Tuk-tuk is the best place for you to do the shopping and purchase several books. Tuk-tuk is one of tourist favourite places while visiting Lake Toba.
Hot Spring
You may enjoy a mild dip, although about 40kms from Tuk-tuk. The water is warm and may not be able to swim in. But if you want to see a few attractions around Lake Toba, it is possible to see:
Museum Huta Bolon Simanindo that has performances each day.
Makam Raja Sidabutar, graves of the Batak Kings.
Stone seats in Ambarita dated back to 300 years ago and acted as a seat.
Hike Pusuk Buhit, the main hill in Lake Toba, it would take 5 hours on the summit.
Waterfall
You will find a waterfall near Lake Toba. The location is right above the Tuk-tuk. You can get there on foot because it is close enough.
Tomok
If you want a quiet place, Tomok is the right place to go. Here, you will be treated to a variety of delicious Indonesian culinary delights. In this place, you will also find the burial place of King Sidabutar, which is highly respected by the natives.
Traditional Dance
You can also watch local dance performances around Lake Toba. This dance is usually performed at the Batak Museum and the Nice Bay Restaurant.
Planning to visit Lake Toba soon? Find out more about Lake Toba and Indonesia by visiting Wonderful Indonesia.