Health
Top Topics for Drug Abuse Group Therapy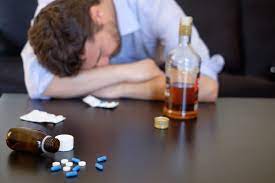 It is not always easy to attend a group therapy session. It can be very intimidating for some people, especially if you are not used to having many people around you. However, it is an inevitable phase of your recovery journey that counsellors and therapists require you to be a part of.
It can also be very healing to see how other addicts with similar challenges cope and overcome their ordeals. Most reputable rehab centres, such as Skyward Treatment Center, will schedule such a session. Such sessions have positive impacts that contribute towards the overall recovery of most addicts.
Defining Group Therapy
This refers to a group therapy session done with a clinical therapist's guidance. The therapist is trained and licensed to offer the support addicts need. Such sessions provide a safe space for addicts to be vulnerable enough to share their experiences and get the support they need.
The aim of the such session is for the addicts to express themselves without fear of being judged. The sessions are meant to help addicts address their issues and learn from others like them. Different topics are handled during such sessions.
Group Therapy Sessions – Topics that Matter
There are diverse topics handled during such therapy sessions. They include:
Recovery Stories
One of the best ways to tackle this group session is to have the participants share their experiences. This is often used as an icebreaker and a way for members to introduce themselves. The fact that each person has a unique story creates a foundation for better future connections. People get to see that they can overcome just as their friends did.
Traumatic Experience Stories
This is a topic that can help many in the group. It can be a healing experience to know that you are not the only one going through a traumatic phase and covering it with alcohol. The environment creates a vulnerable chance and offers numerous learning opportunities.
Family Issues
The topic of family is another popular choice of discussion in group sessions. The relationship with one's family is an important part of how addicts cope with their addiction. When one has a supportive family, they will likely come out of their addiction stronger and better. Sometimes addictions are triggered by family issues hence the need to address them to heal properly.
Forgiveness
All recovery goals should incorporate forgiveness. Group sessions will cover this topic with a focus on self-forgiveness and forgiveness to others. The 12-step program emphasizes forgiveness as a way of unblocking some hurdles and facilitating forgiveness. All team members will undoubtedly relate to forgiveness in one way or another.
Triggers
This may seem like a big monster, but one that has to be tackled. Triggers are significant hindrances to recovery, primarily when not handled properly. Group sessions help equip addicts with the right tools to cope even in environments where triggers threaten to destroy their progress.
Group sessions are, in many ways, beneficial to addicts in recovery. However, you can only benefit from it if you attend the right session at a facility you can trust. Call Skyward Treatment Center today to discuss your options.