Education
Roots Hotel Management and Culinary arts Placements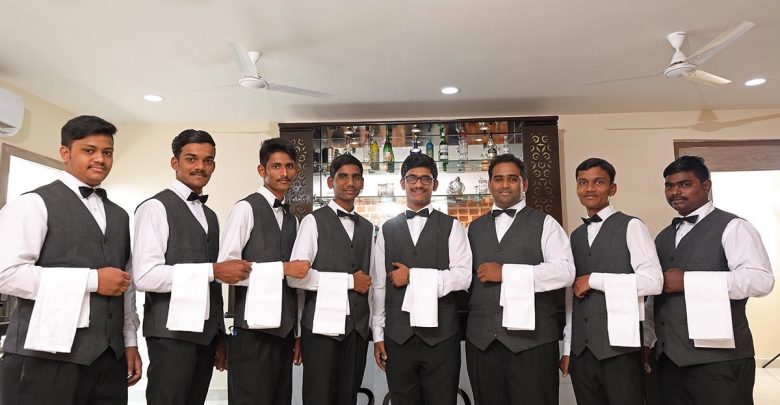 Hotel Management and Culinary Arts has gained a hype in recent years because of the growing industry and exponential demand for expertise in the field. Both the industries are a niche field and are among the sought after careers as per the recent survey.
Culinary arts deal with the techniques and skills of food preparation as a chef, it can be an event, a gathering, a function, preparing food at a cafe, or a high end restaurant or even for your own food business. It requires the person to have a basic understanding of food, taste, and presentation. One has to have knife skills, kitchen organization, baking fundamentals, handling meat, and poultry food items. Presentation of food is what distinguishes it from the basic to the exquisite.
Hotel Management involves learning the skills of organizing hotels, restaurants, casinos, cruise, movie theatres, and other hospitality areas. There are multiple niches under hotel management and one has to choose based on his/her interest. It not only involves hotel organization but marketing, sales, cost control, operations management as a part of hotel management. An aspirant of hotel management industry can learn all of the above but culinary arts as the fields are different and different skills altogether are needed.
Roots Hotel Management and Culinary Arts (RHMCA)
 There are very few institutes in India that provide both Hotel Management and Culinary arts and Roots Hotel Management and Culinary Arts is one of the premier institutes offering the right set of programs and certifications to enable students to be a part of International Level hospitality industry. The management believes in providing high quality and unmatchable theoretical and practical education toits students. Revered experts from the industry provide guidance to students along with internships in reputed brands to help them gain international experience and first-hand information on cutting information.
Courses Offered by RHMCA
The institute offers both diploma and graduation level programs in various courses described below:
Course Name
Course Type
Duration of training
Affiliated to
BHMCT (Bachelors of Hotel Management and catering technology)
Graduation program
3 Years
Osmania Industry, Hyderabad
BCTCA

(Bachelors of Catering Technology and Culinary Arts)

Graduation program
3 Years
Osmania Industry, Hyderabad
Diploma in culinary arts from city & Guilds, UK
Diploma Program
The program is for building skills in culinary arts and becoming an expert chef. It involves sharpening knife skills and impeccable presentation.
The program is from City & Guilds, UK and it is universally recognized.
Diploma in Food Preparation and cooking (Patisserie)
Diploma Program
The level 2 diploma in Patisserie is a specialization in Patisserie
Diploma in food and beverage service
Diploma Program
The level 2 diploma is a specialization in bar and beverage service
Diploma in travel and tourism
Diploma Program
The level 2 diploma is for students willing to work in tourism industry
Career Enhancement Diploma Programs
Diploma in French from Alliance Franchise: The hotel management industry offers overseas opportunities to the professionals and thus the knowledge of languages in a must to thrive and ascend in the international industry. The diploma provided good knowledge of French Vocabulary related to the cuisine and a good command over the language.
Diploma in Soft Skills from Roots Finishing School
The importance of interpersonal skills is quite visible in the hospitality industry. One has to master the intricacies of soft skills to excel in the industry. Good communications skills, etiquette, and mannerisms are required for proper management and also in case of crisis management. The diploma program imparts such skills in the students to have a high level of expertise required in any part of the job.
Placements at Roots Hotel Management and Culinary Arts
Roots not only believes in imbibing the highest level of skills to its students but also manages to take them to a prodigy level to get associated with big brands in the industry. The efforts and methodologies placed by the institute is known by many brands which hire every year from the campus placements. Many graduates and professionals have realized their dream of working in some great hospitality brands because of the knowledge shared by Roots. The training builds the personality, creativity and capacity of students and gives them an edge to stand out. Students are exposed to 4 months of Industrial training starting from December every year which helps them get selected for some 5 star hotels for various positions. Following are some of the names which have become synonymous with the campus.
Trident Hyderabad, Marriott Hyderabad, Radisson Plaza Hotels Banjara Hills, ITC Hotel Hyderabad , Four Points by Sheraton, Taj Hotels, Resorts and Palaces, The Westin, Marigold, and Marriott Jaipur are some of the five star hotels that are visiting every year to hire fine talent in the hotel, catering and culinary arts.
Check out Roots College of Hotel Management and Culinary Arts placement details,average package at https://www.shiksha.com/college/roots-college-of-hotel-management-and-culinary-arts-somajiguda-hyderabad-55447/placement